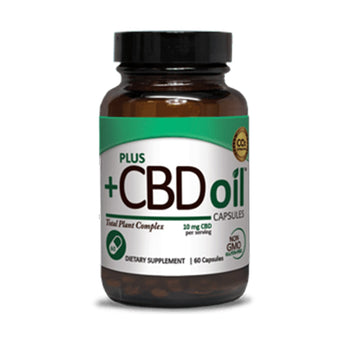 Plus CBD Oil™ Hemp CBD Oil CAPSULES
Regular price $29.95 Sale
Harness your human potential with Plus CBD Oil™ Capsules
Plus CBD Oil™ contains a complex phytocannabinoid matrix featuring cannabidiol from agricultural hemp.  Capsules are a convenient way for regular CBD users to get their CBD every day. Customers who buy our capsules rely upon the purity and consistency of the Plus CBD Oil™ Seed to Shelf™ Guarantee.
Plus CBD Oil™ Capsules are gluten free, non-GMO and made from hemp-derived CBD Oil, delivering cannabinoids, naturally occurring Vitamin E and fatty acids to support balance in your body and mind.
Optimize your human potential with Plus CBD Oil™ Capsules. Independently verified by 3rd party laboratories, Plus CBD Oil™ delivers the highest quality CBD Oil products available in North America.
Disclaimer: CBD Oil is not intended for use under the age of 18. Do not take if you are pregnant or lactating. Consult your physician before use if you have a medical condition or are taking any medication. Do not exceed recommended serving size.